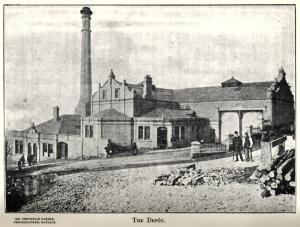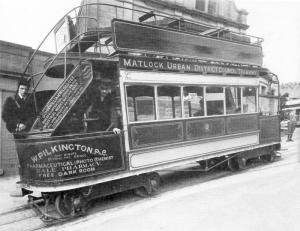 The Old Tram Depot
25 Rutland Street
Matlock
DE4 3GN
Telephone: 44 (0)1629 580622
My workshop is part of the Old Tram Depot in Matlock. Originally two rooms, my workshop is now one large space. One room was once the ticket office; not sure of the other, perhaps the waiting room.
Matlocks cable operated tram was inspired by the trams of San Francisco - it climbed the bank from Crown Square to Rockside between 1893 and 1927. A powerful static steam engine was housed in the Depot at the top of Rutland Street, this drove a cable round huge pulley wheels set under the surface of the road. The cable ran down a channel in the road to Crown Square in the centre of town, the trams clamped themselves onto the cable to be hauled up. The fare was 'Tuppence Up, Penny Down'.
The Old Tram Depot is owned by Matlock Green Garage, our excellent local family run recovery service. In 2010 we lost Joe Hopkinson, head of the family. Joe was a most hard working and generous man, he is deeply missed.
My workshop (No. 25 Rutland Street) has housed many different businesses over the years. It was vacant for several years before I acquired it, before then Matlock Autobodies used it as an office. Previous to that a video rental shop and earlier still a greengrocers. I would love to know more about the history of the Tram Depot and specifically my little bit of it, should you happen to know anything.